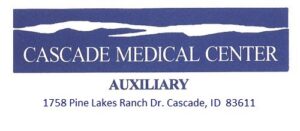 The Cascade Medical Center Auxiliary was founded in 1974 by several women in the community dedicated to the hospital and the improvement of those facilities. The auxiliary has worked over the years to raise and provide funds for new equipment, beautification of the grounds and refurbishing of patient rooms. The auxiliary also provides a $1000 scholarship each year to a Cascade High School graduate who is pursuing a career in the medical, dental or veterinary field. The auxiliary also funds continued education for current hospital staff.
Fund raising activities include a Summer Barbecue, the Holiday Bazaar and Holiday Tea.
HOSPITAL AUXILIARY OFFICERS:
Kerie Jo Kushlan, President
Linda Jarvis, Vice President
Robie Winkle, Secretary, (208) 271-6203
Auxiliary meetings are held monthly, September through May, on the second Monday of the month at 6:30 p.m. in the conference room of the Cascade Medical Center.
Cascade Medical Center Auxiliary
1758 Pine Lakes Ranch Dr.
Cascade, ID 83611